Scrap Car Removal Sydney We Offer Cash For Scrap Cars
A custom vehicle, wrecked, antique, luxury or sports, Mega Scrap Car Removal Sydney will buy it. Our Free Unwanted Car Removal services always start with a Cash for Cars offer that could be as high as $6,999. We don't make things difficult. You simply let us know you'd like to sell your vehicle and provide us with its details.
Cash For Scrap Cars We Come To You In Just 24hrs To 48Hrs Sydney Wide
Enquire today for a cash for cars offer and then let us know if you'd like to take us up on our offer. We buy all makes and models of cars. Visit Australian Car Brands for the car makes we buy.
Call 0421 812 819
Why Mega Cars For Scrap Car Removal?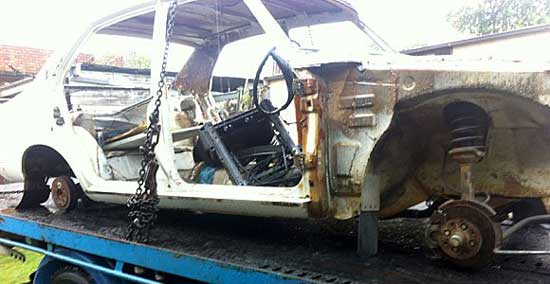 We are the car wreckers that are professionals. We've been in the community for some years, offering eco-friendly car disposals and cash for scrap cars offers that surpass other companies. Our company is a licensed auto buyer and wrecker that has the experience and knowledge to recycle vehicles, taking useless parts and rusted steel and reconditioning them for new use and resell.
We don't charge for our Auto removal. In fact, we pay the vehicle owner cash as cash is what their useless vehicle will become when they sell it to us.
Our Scrap Car Removal can be scheduled by:
Contacting us Sydney for a cash for cars offer that you accept or reject.
Provide us with your location and the date and time you'd like us to come to your location to remove your vehicle.
We do request a few things from you, such as asking you to have the vehicle in an area where we can easily inspect and load the vehicle onto our truck. We also ask for the title of the vehicle; but, understand that some vehicle owners may not have their title. If you no longer have the title in your possession, then we will provide you with other options.
With scrap car removal services offered 24 hours a day, our services are fast and efficient and are scheduled at a time that is convenient for the vehicle owners.
We welcome the opportunity to make you an instant cash offer on your unwanted or damaged vehicle that would otherwise be worthless.
Contact Us
Today
We can be contacted by calling the number below or filling out our Get a Quote form located on this page. Within minutes, you will have a cash offer and can schedule a free Damaged Car Removal Sydney.
Call 0421 812 819