Old Car Removal Sydney Get The Highest Cash For Scrap Cars Call Us Now
Are you looking for someone to purchase your old car so that you can replace it with a new one? Do you wish to get rid of that old car lying in your garage for years without any use?
If you're one of the above, don't worry because Mega Old Car Removal is here to save the day! We offer a quick and convenient old car removal services across Sydney that is both fast and efficient. Whether you're at home, office, the mall, garage or carport, we'll come to you to remove your car. Our process is just simple and hassle-free.
We Offer Free Same Day Removal & Top Money For Old Vehicles Around Sydney NSW
Different kinds of vehicles including cars, jeeps, 4WDs, UTEs, trucks, vans, SUVs, commercial vehicles, motorbikes and more.
Vehicles of any condition including old, scrap, junk, unwanted, smashed cars, wrecked trucks, accident damaged vehicles, etc.
 Vehicles of all top brands and models including Toyota, Fiat, Mitsubishi, Nissan, Mazda, Isuzu, BMW, Mercedes, Suzuki, Subaru and many more.
Follow Our Simple 3-Step Car Removal Process:
1. Get a quote: First up, to have an idea about what we're offering you in return for your vehicle, get free of cost quote from us. To do so you can call us at 0421 812 819 and speak to one of our attendants who will answer all your queries. They will ask you for some details about your car such as its brand, model, age and condition before giving you the quote. You can also get an obligation-free quote using the "Get a quote" form on our website.
2. Fix an appointment: We give you all the time you need to decide whether you want to accept our offer and if you decide to take it, just let us know and we'll fix you an appointment for pickup. We'll decide a time and place that is convenient for you, which can be anywhere in Sydney.
3. Removal & Cash on the spot: We'll be at your location on time and will carry out the removal process by transferring your vehicle to our truck. You'll just have to show us a form of identification and sign some paperwork and we'll give you the cash on the spot!
What Makes Mega Car Removal To Be #1 Choice When It Comes To Selling The Old Car
Our main aim is to provide the best customer service to our clients. Since we understand that selling a car is a difficult thing to do, we try to make the process as simple and transparent for you as possible.
We accept all your vehicles no matter what their type, brand, age or condition because for us it's the vehicle that is of value. Since we value each vehicle, we pay top cash for all old, scrap and unwanted cars of up to $9,999.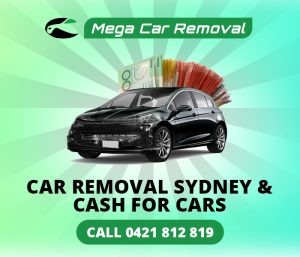 Our Care Of Our Community & Global Warming –  We Recycle In Eco-Friendly Way
We also care about the environment, which is why our car removal process is totally eco-friendly. We Dismantle Scrap Car, unwanted, old and wrecked vehicles for their parts and crush them to create metal and each of these things is recycled, saving the mother earth from harm.
Our entire team, starting from the respondents to the removers and dismantlers, is highly skilled with their tasks and friendly. They treat each job with care and make sure the work is quick and efficient.
Our services are available across Sydney, covering Southern Sydney, Inner West, Eastern Suburbs, and Northern Suburbs. We have been in the business for many years and are trusted by many.
Our old car removal process is hassle-free with our clients having to lift not even a finger. To get your old car removed, give us a call at 0421 812 819 today!